Upcoming Classes
Come to one of my classes and interactively learn how to create your own encaustic piece.
4/20/2019
10am to 12:30pm
Soulful heART Studio at The Young Farm
507 East Young Street
Rolesville, NC 27571
Join me as I teach you the ins and outs of encaustic while walking you though the steps to create your very own mixed media painting. In this workshop you will learn how to setup your own encaustic work space. Learn how to get a smooth or textured surface. Find out how to utilize art supplies you already own with encaustic. Finally learn how to utilize photography. All supplies are included, and you will walk away with a finished 5x7 mixed media seascape or mermaid painting or seascape of your very own! Workshop is $80 and space is limited to six students.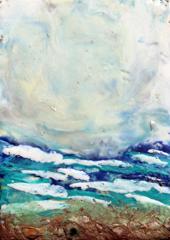 Natures calling, An encaustic mixed media experience
3/23/2019
11am to 2pm
Going Local NC
208 N Front St
Wilmington, NC 28401
In this workshop, I will teach you the basics of encaustic. How to safely setup your own encaustic studio. We will learn about image transfer, getting a smooth surface, embedding papers and other natural objects into the wax, and adding marks with tools and oil stick. There will be a variety of substrates to paint on and mixed media materials to use. If you have any papers, shells or feathers etc from home you would like to bring please feel free to do so. If you have any question, please email me at info@mjsworks.com.
To Register, call Going Local NC at (910) 769-4833 910-742-3319