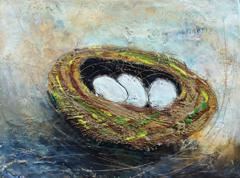 Where I have been and where I want to go
So sometimes I forget how far I have come with my art and how much I have learned along the way. Like most people I am very focused on where I want to go but not where I have been. I want to share with you what a working artist career can look like.
When I moved to North Carolina five years ago my kids had both started school and I found myself looking for ways to get to know this exciting new town we moved to. I started going to local art shows and meeting lots of new people.
Since I live in North Raleigh, I joined the Wake Forest Artist Guild. Soon after that I joined Visual Art Exchange in downtown Raleigh. Being a member of both of these great groups helped me realized my dream of being a working artist. I was given an opportunity to learn from other artist. These groups gave me wonderful feedback on my work and helped me find venues to show my work. I have been very fortunate to have the opportunity to network with so many talented local artists. Currently I am a member of the board for Carolina Mixed Media Artist Guild. Thanks to this group of hard-working artists I was able to embrace that term "Mixed Media" and finally let my inner artist be free to experiment, learn and grow.
So in short, just get out there and meet other artists, have fun making your art and never stop learning.
Published on Tuesday, June 4, 2019
By Marcia Streithorst