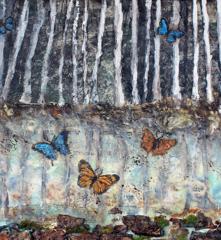 Shellac burn? Or bust?
Recently on a trip to Ashville, NC with my sister we toured the Art district. It was amazing! So many talented artists.
While we were admiring all the great art, my sister spotted a encaustic painting that used shellac burning. We both loved the painting and my sister wanted to know why I have never done a shellac burning painting. Good question! Challenge accepted.
So, as soon as I got home, I bought a can of shellac so the fun could begin. I started with a few layers of encaustic medium and then started painting the shellac on top. Now for the fun part. I lit up my torch and set fire to the shellac (side note:I was hoping for a bigger flame). I would still suggest doing a shellac burn outside though due to the flames. I personally found this technique hard to control. It definitely takes some practice. Because of this I was not too happy with the results.
I love the way other artist use shellac burn in their paints. I'm just not sure it is for me. But I loved trying it and who knows maybe someday down the road I will find the time to master it.
Published on Tuesday, September 3, 2019
By Marcia Streithorst