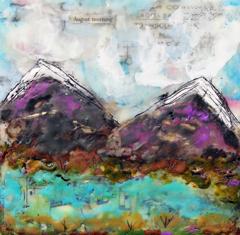 'Tis the season for art!
I love the holidays. The mad rush to see family and friends, special foods, and gifts. I hear often that people are reluctant to give art as a gift. What if they do not like it? What if they have no place to put this wonderful artwork?
I understand all these reasons, but I ask you, "Have you ever received a original art work that you did not like?" Much like you I also used to fear giving artwork as a gift.
But, then I started throwing caution to the wind and started gifting artwork that reminded me of the person I was buying for. Nine times out of ten they love it, and they loved to hear how I saw them in the art. Because at the end of the day people love to know that someone is thinking kindly of them.
We all crave connections and what deeper way to express the beauties of these connections then with art. So this holiday say "Yes" to that art you have been looking at online or in your favorite shop.
Published on Friday, December 6, 2019
By Marcia Streithorst