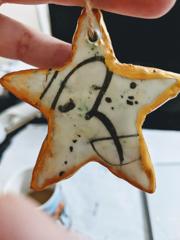 Paper Clay Loves Wax
I was experimeting in my studio a few weeks back and I discovered that paper clay loves wax. Or is it wax loves paper clay?
I was looking for a more stable way to add dimensional elements into my painting. That is when I had the idea to use paper clay. Paper clay is clay that has cellulose fiber added to it. This makes it lighter than other clays. Paper clay is porous so if air dry it, once it is completely dry you can easily coat it in wax.
For my first experiment I used a cookie cuter in the shape of a star and cut out several stars and let them dry. Next, I coated the stars in white encaustic paint and embedded tissue paper on the stars. For my last step I trimmed the stars in gold. I highly recommend paper clay. It was fun and easy to work with and lends it self nicely to mixed media projects.
Published on Saturday, January 23, 2021
By Marcia Streithorst