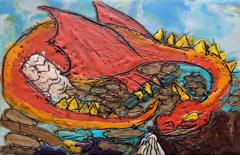 Dragons in the studio!
Everyone loves dragons, right?
Well my friend Linda sure does. She asked me, no challenged me, with the task of painting her a dragon for her new art studio. I have to confess I have not sat down to draw a dragon since I was in high school (so it has been a long time).
One of the great things about encaustic is how easy it is to transfer a drawing onto the wax. So after sketching out her dragon and transferring the drawing onto the wax it was time to paint. It was fun painting the dragon because the texture of the wax lent itself well to the look and feel of a dragon. The downside was getting a lot of detail into this small 5"x7" painting.
All in all I had a lot of fun working on the dragon. The only thing I would do differently next time is paint it bigger. Linda loves her dragon and she has proudly hung him up in her art studio!
Published on Tuesday, May 7, 2019
By Marcia Streithorst