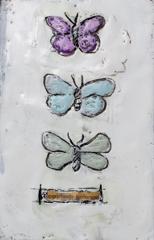 Encaustic Journaling
I have always loved to look at other people's art journals. The way each page flows with color, the fun collages glued to the pages. I love the meaning of the art journal for the person who made it. I am for the record very bad at art journaling. I have started a few and if I'm being honest have never finished one. I find it hard to fill an entire book with small sketches, or written notes about my life.
My friend Deborah Young, owner of Soulful Heart studios, recently finished a magical art journal on her trip to Ireland last month. Each page is magically filled with color, light and the feel of her trip. I am in love with her art journal!
So, my challenge this month was to fill a art journal. I started off thinking about what I want to fill my journal with. While contemplating that, I decided that since I am a encaustic painter I should put wax on my journal. Painting the cover of my journal sounded fun. I made the smallest encaustic painting I have ever made. Doing the cover of my art journal was so much fun that I now find I've been doing more of them. I now have a painting I can carry everywhere with me.
In truth I have failed to fill my art journals, but I have learned how to paint small. Perhaps this is why I have decided to co-teach a art journaling class with my friend Deborah. She will teach me everything I need to know to fill my journal and I will teach her how to make a cover that with be a portable masterpiece. Come join us.
If you are in the Raleigh area and are interested in this unique journaling workshop, learn more and register at http://deborahsoulfulheart.com/workshops/.
Published on Thursday, August 8, 2019
By Marcia Streithorst