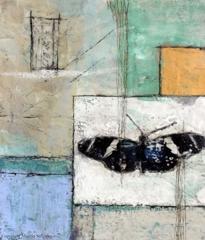 Art Journals for fun with a purpose
Art journaling for me is place to play with new media.
I have been learning about gouache and I love how it acts like oil paints in the way that you can layer the colors. It is also water soluble so it can be opened back up with water like watercolors. You can work in thin washes or very opaque layers of colors. I love journaling because it is the one place where I do art just for me. Not worrying about the finished product or if people will ever see it. I also use this space to work on painting ideas and play with color palettes.
When I journal, I feel excited and free to just let the paint fly. After working with my colleague Deborah Young, owner of Soulful Heart Studios, and seeing her journals I have learned that having an intention for a journal is a great idea. For this journal I started with the intention to learn how to use gouache. I decided to paint one or two pages a day with my gouache paints. Now, 44 paintings later I have a journal filled for the first time. The paintings make me happy and I can see just how much I have learned along the way. I now have a journal that is stuffed with color, joy and hope. I have enjoyed this project so much I plan to start a new journal and fill it as well.
Published on Sunday, July 12, 2020
By Marcia Streithorst